Check the latest Age Of Empires 2 screenshots submitted on AoE Realm.
Enlarge your window to enlarge image ( or press F11 )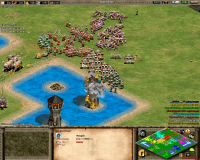 Screenshots Upload
You got cool screenshots of your Age of Empires games ? funny pictures related to Age of Empires series and want theses to be shared ? Feel free to do so hosting it on one of the hosts below, and it will be added to ours screenshots lists.
Drag and Drop screenshots in this zone, or browse to select your pictures
No images loaded yet.
You can change the destination host clicking images below, if ever errors occur with the currently selected one.
Currently selected host : Imgur
Upload screenshot on your Facebook Timeline via AoE Realm app ( requires publish permission )
Logged Out FB Logged In FB - App not added - - App added